Introduction of the Director of Tsurumi Clinic
Striving together with our patients to cure illnesses by integrating Western and Eastern medicine enjoying their advantage.
Tsurumi Clinic, the Director Takafumi Tsurumi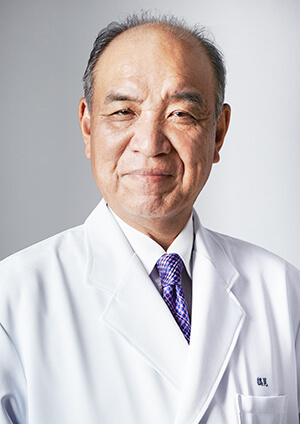 Tsurumi Clinic, the Director Takafumi Tsurumi
Born in Ishikawa Prefecture, Japan in 1948
Graduated from Kanazawa Medical University and interned in Hamamatsu University School of Medicine. Worked in several hospitals after internship, only to find the limit of Western medicine. Encountered the enzyme nutrition while pursuing various alternative medicines. Then, started his study in the field and established the Tsurumi Method immune treatment.
Since the interview and exam takes three to four hours for each patient, the number of patients he takes per day is limited.
He proposes not only fasting menu (semi fasting) based on enzyme nutrition, but also physical therapy with an ore energy bed which radiate hormesis (a small amount of radiation), ore sauna bath and an acoustic chair. Instillation therapy such as hydrogen, vitamin C, etc., and prescription of a supplement developed originally and improved in quality. People from abroad, as well as in Japan, come for treatment.
He has been energetic in his writing in various fields, such as cure cases, nutrition and diet recipe. His book on enzyme nutrition is a long-selling book, highly regarded for expertise in the field.